Finance Offers
New INFINITI Q60 at INFINITI Of Valencia
The INFINITI Q60 is the car you've been waiting for! Its luxurious performance, agility and comfort make it perfect to cruise down highways or run errands around town.
The newest luxury vehicle from INFINITI has everything needed in a ride: power, agility, and entertainment. Whether cruising on highways or running errands around town this new model will be your go-to choice for any occasion.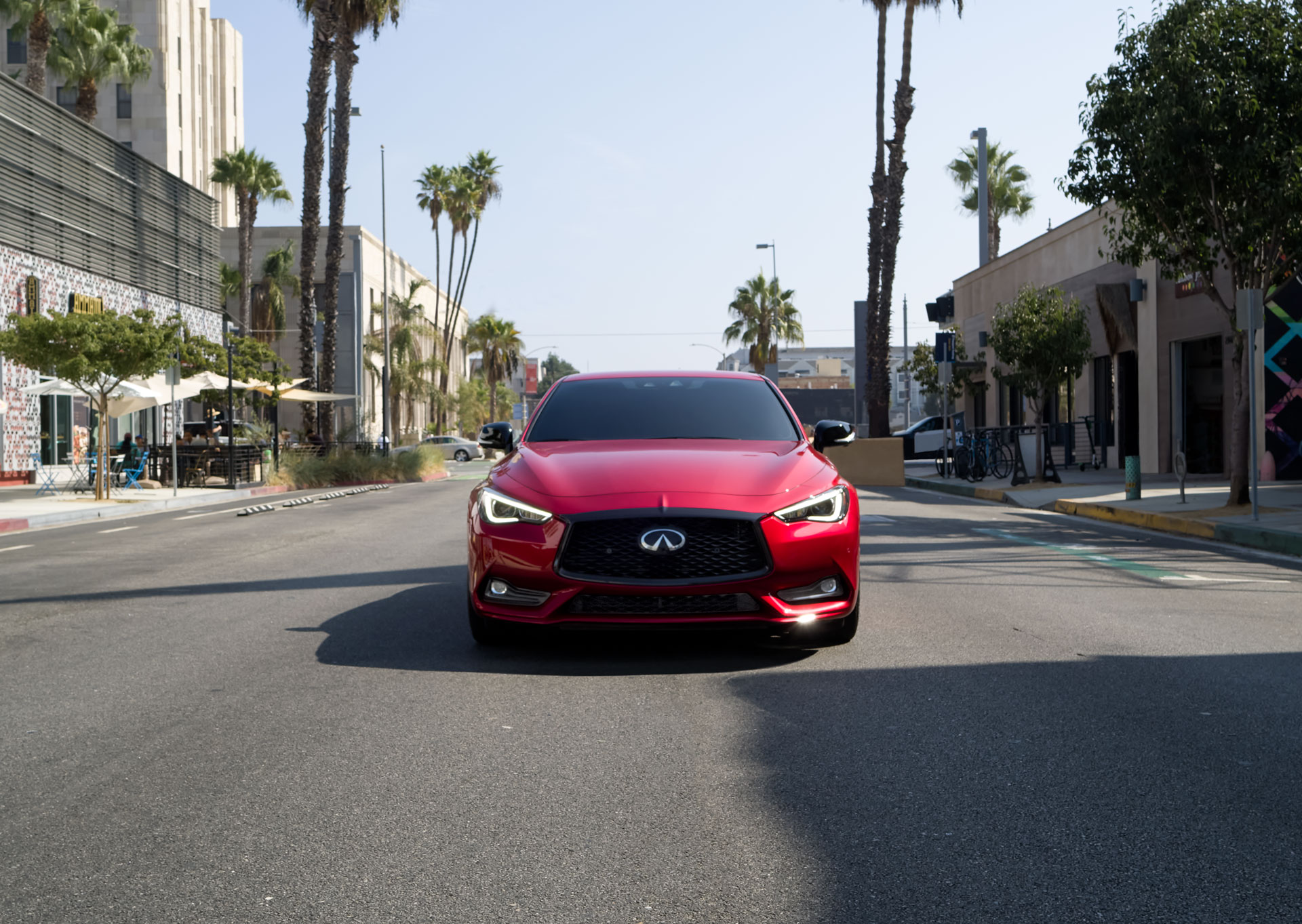 Financing & Leasing
Lease a new Q60 today.
Once you've found the Q60 you're after at INFINITI Of Valencia, all that's left is to handle the paperwork. Our convenient online shopping tools allow you to customize your purchase experience while exploring which finance or leasing options work best for you.
Q60 Sales Events
Take advantage of INFINITI sales events to save on leasing the Q60 you want. Select your lease offer from our current series of specials and incentives to get the best price on your new Q60. Sign up today for our newsletter to stay up-to-date on all INFINITI news and offers.
Performance
Powering the 2021 INFINITI Q60 is your choice of two turbocharged V6 engines. First up is the 3.0L V6 twin turbo with 300 horsepower and 295 lb.-ft of torque. A lightweight aluminum engine doesn't weigh the car down while providing a faster response. Upgrade to the 3.0L V6 with 400 horsepower, which is standard on the Red Sport 400. This engine provides up to 350 lb.-ft of torque for almost instant acceleration and a higher peak.
Handling all this power is easy in the 2021 INFINITI Q60 with the Dynamic Digital Suspension, which is constantly adjusting to changes in the road and adapting to curves and corners for the perfect mix of performance and stability.
Direct Adaptive Steering revolutionizes the way you drive with instantaneous transmission from steering to the wheels. Steering is faster and smoother even on rough roads with decreased vibrations.
Design
INFINITI is known for their sleek and smooth lines, but the 2021 INFINITI Q60 redefines what it means to be an Infiniti. The sweeping curves are contrasted by flowing lines in this model that gives off a feeling of power like no other vehicle before it.
Eye-inspired headlights add to the signature design while also enhancing visibility at night time or on dark roads with its LED daytime running lights as well as automatic low beam control features. For those looking for style who want more than just some decoration, these headlamps provide function too! And lastly yet most importantly is the double-arch grille which provides a clear view into how much effort went towards crafting such elegance from start to finish – you can't find
Safety
Experience a new level of ease and confidence with technologies designed to keep you safe. Helping you sense and react to your surroundings, the 2021 INFINITI Q60 gives you peace of mind — whether you're on the highway or in the parking lot.
The INFINITI Q60 is the perfect car for those who want to feel safe on the road. With a variety of safety features, including predictive forward collision warning and lane departure prevention systems, you can put your mind at ease knowing that if an accident does happen, your vehicle will do everything it can to protect you from harm.
The INFINITI Q60's lane departure prevention and active lane control work together to alert the driver if their vehicle starts to drift into another lane without signaling. The Lane Departure Prevention recognizes a marked line on highways or roads and will emit an alarm when it senses that you have veered too far out of your driving path, while Active Lane Control can make adjustments in steering for curves by recognizing markers like signage about upcoming turns.
The new INFINITI Q60 includes an Around View monitor that supplies you with a bird's eye view of your car. It warns when objects move in the vicinity, and this feature also allows for easily maneuvering in tight parking spots or while waiting to turn left before merging on the highway.
INFINITI Q60 drivers will be able to take control of their driving experience for the first time with these new safety features. Blind Spot Warning and Intervention reduce your chances of getting into an accident by notifying you when a vehicle is in your blind spot, which are areas that can't see from side mirrors or rearview mirror due to pillars, pylons etc., while also taking over if there's any danger arising such as merging lanes without checking too closely before doing so.
Entertainment
Create the perfect road music playlist for your 2021 INFINITI Q60 and enjoy crystal clear sounds from 13 speakers through Bose Performance Series Audio system.
INFINITI InTouch
INFINITI InTouch is the ultimate way to stay connected. With Wi-Fi hotspot capabilities and automatic collision notification, it's like being in contact with a personal assistant on your phone at all times! Pair up to seven devices for hands free use or stream content right from our cars! Let INFINITI be there when you need us most - even if we're not always around
INFINITI InTouch includes a dual HD display with the lower screen being for navigation and premium traffic information. The upper monitor is standard on all trims, giving drivers an optimum viewing experience while also providing them everything they need to be in touch at any time of their journey.
Available INFINITI Q60 Trim Levels and What They Include
Multiple trim levels ensure the 2021 INFINITI Q60 is perfect for you. Each trim offers something unique to fit all kinds of drivers. Choose the one that best fits your needs.
Q60 Pure
This model sports the 300 horsepower 3.0L engine and is loaded with features, such as dual-zone automatic temperature control. Apple CarPlay and Android Auto are standard on this model along with 19-inch aluminum alloy wheels.
Q60 Pure AWD
This trim includes everything you get in the Pure trim and comes with all-wheel drive to take on more challenging road situations.
Q60 Luxe
Along with everything included in the Pure trim, you enjoy even greater safety with forward emergency braking and pedestrian detection. Blind spot warning alerts you when it isn't safe to switch lanes. For premium comfort, you'll enjoy heated front seats and a heated steering wheel on chilly mornings. Listen to your favorite songs through the Bose Performance Series Audio, which includes 13 speakers.
Q60 Luxe AWD
This trim has everything you'll find in the Luxe trim, plus all-wheel drive to give you more confidence in all situations.
Q60 Red Sport 400
Experience even more power with this trim, which includes a 3.0L V6 twin-turbo engine with 400 horsepower. Unique dual exhaust tips feature brushed satin finish while red painted sport brake calipers and dynamic digital suspension enhance performance. Semi-aniline leather-appointed seats add a touch of sophistication as you roll along on 20-inch staggered aluminum-alloy sport wheels.
Q60 Red Sport 400 AWD
This model is top of the line with all the features of the Red Sport 400. It also includes all-wheel drive to help you maintain control in various road conditions and terrain.
Special Packages
Essential Package
The Essential Package is available for the Luxe trim and includes an advanced climate control system with auto recirculation. It also comes with a filter and air purifier. For technology, you can enjoy navigation with lane guidance and 3D building graphics. Voice recognition makes it easy to get directions. You also get SiriusXM Travel Link and Traffic with a three-month complimentary subscription for access to weather and other information.
This package also includes a memory system for the driver seat with the ability to store settings for two occupants. This memory system also works for the mirrors and steering column settings. Power folding mirrors with reverse tilt-down are included in the package as well as a power tilt and telescopic steering column.
ProActive Package
The ProActive Package is available for the Q60 Red Sport 400 and features adaptive front lighting with auto-leveling headlamps for improved visibility after dark. Also part of the package is Direct Adaptive Steering and Blind Spot Intervention. Adding to the safety of those in the front are front seat driver and passenger pre-crash seatbelts while you also have the eco pedal for more efficient driving.
INFINITI Q60 Warranty
Enjoy the same warranty coverage with the 2021 INFINITI Q60 as with all new INFINITI models. Basic coverage for this warranty includes 60,000 miles or four years of protection, whichever comes first. Get six years or 70,000 miles of protection with the powertrain warranty. You also have the Federal Emission Performance Warranty and Defect Warranty for 96 months or 80,000 miles.
The corrosion warranty protects the exterior of the 2021 INFINITI Q60 for 84 months with no limitations on mileage to cover the body and frame. Included with this warranty are parts and labor as well as towing to a dealership. Always take your vehicle to a dealership for service rather than trying to do the work yourself, so you don't void the warranty.
Certain components of the 2021 INFINITI Q60 have separate warranties, honored by the manufacturers of the parts. Batteries and tires are two examples of components with their own warranties. Batteries are warrantied based on length of life left. The first two years are covered at 100 percent with the next eight months at 75 percent. Months 33 through 50 are covered at 50 percent while up to month 84 is at 25 percent.
Tire warranty is based on how much tread is left. Coverage is determined by a percentage when you take the vehicle to the dealership for replacement.
Extended Coverage
You can enjoy even greater peace of mind with an extended warranty. This warranty goes beyond what the manufacturer originally provides for the 2021 INFINITI Q60. The Elite Extended Purchase Plan provides coverage after the original warranty has expired for up to eight years or 120,000 miles. Roadside assistance is included for that same timeframe.
INFINITI Q60 Accessories
Make the 2021 INFINITI Q60 fit your personality and style with the right accessories. Add products that protect your investment as well as those that enhance ownership. No matter what you choose, all accessories are professionally installed and designed to fit this model.
Exterior Accessories
Add exterior ground lighting to the 2021 INFINITI Q60 to brighten a dark parking garage or driveway or have illuminated kick plates installed for additional lighting. Protect your coupe with a rear bumper protector, mirror covers, and a hood protector. Prevent theft with wheel locks while special 20-inch Charcoal Metallic performance wheels and a rear spoiler showcase the sporty attitude of this ride.
Interior Accessories
Make the cabin of the 2021 INFINITI Q60 your own space with genuine INFINITI accessories. Add a cargo net and portable organizer to keep the trunk clean and neat. Two rear USB charging ports allow your passengers to get connected or charged on the go.
The History of the INFINITI Q60
The INFINITI Q60 was first unveiled at the North American International Auto Show in 2015. The production model came a year later, and both were presented together after an overwhelming response from consumers who wanted to see what all of the hype is about for themselves. Street models went on sale as 2017 models with only two engine choices: 2.0 or 3.0 engines which provide plenty of power no matter how you like your ride delivered!
The INFINITI Q60 has been one of the most talked-about cars ever since it made its debut last month, being present not just at auto shows but also among social media circles where every new detail that surfaces might be shared by millions before anyone can blink twice!
The new Q60 is more muscular, aggressive, and exciting. Its wider stance on the lower body makes it a sleek looker while its dynamic digital suspension makes driving feel like floating in the air. The seven-speed automatic transmission provides an easier drive with smoother shifts that give you plenty of power to zip through traffic without any hiccups or delays!.
How to Make the 2021 INFINITI Q60 Your Own
The 2021 INFINITI Q60 is the perfect car for those looking to upgrade their ride. If you would like to take it out on a test drive, stop by INFINITI Of Valencia where our staff will help make your decision an easy one.
The finance department at INFINITI Of Valencia will help find an option that's right for your budget and goals so call them today or fill out our application online! You don't have time for anything complicated, just get startedonline today- approvals available now!